Create your own workshop. Read through our archive of offerings. If any sound good for you and your friends and family, contact us about offering it again. 360.379.5463.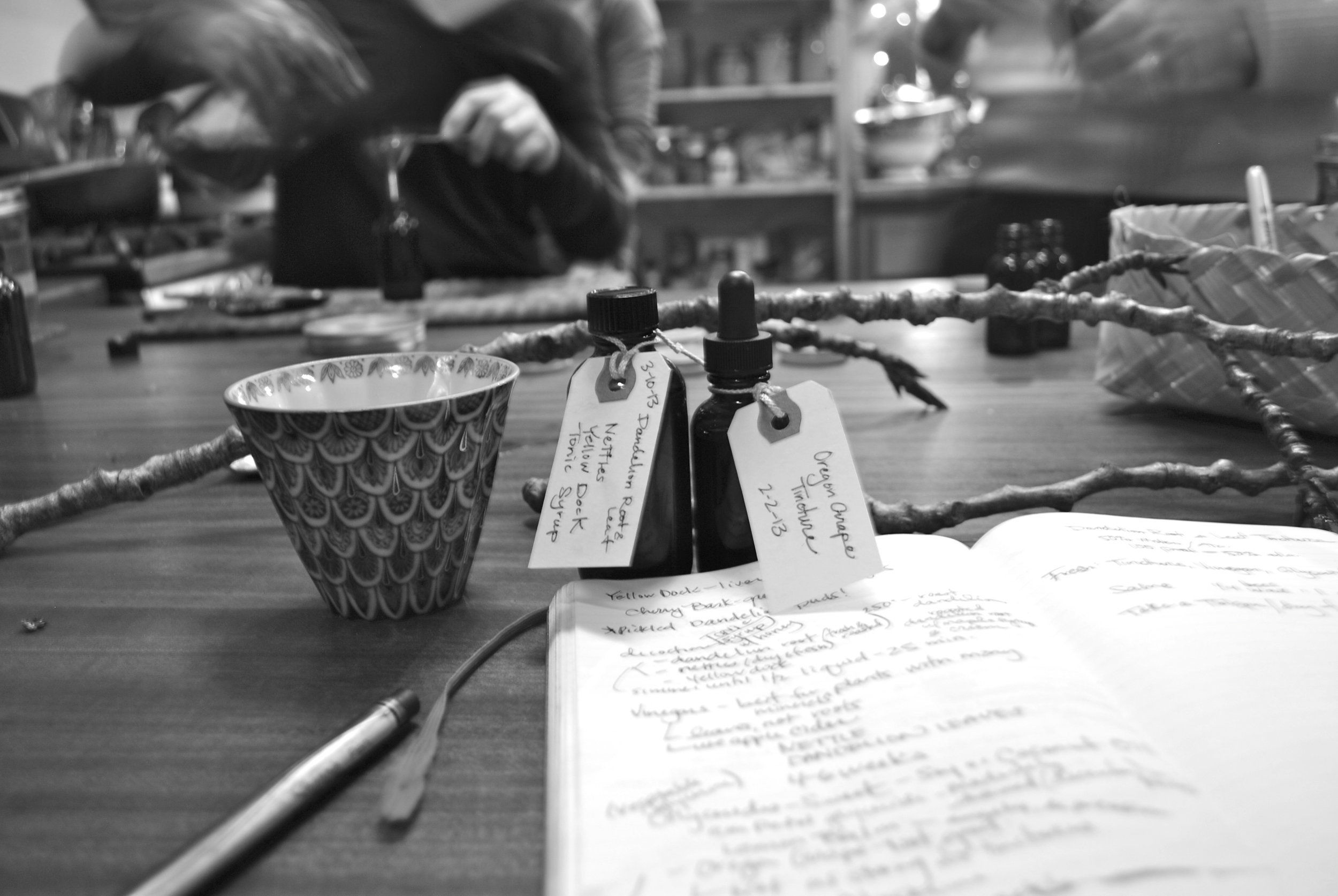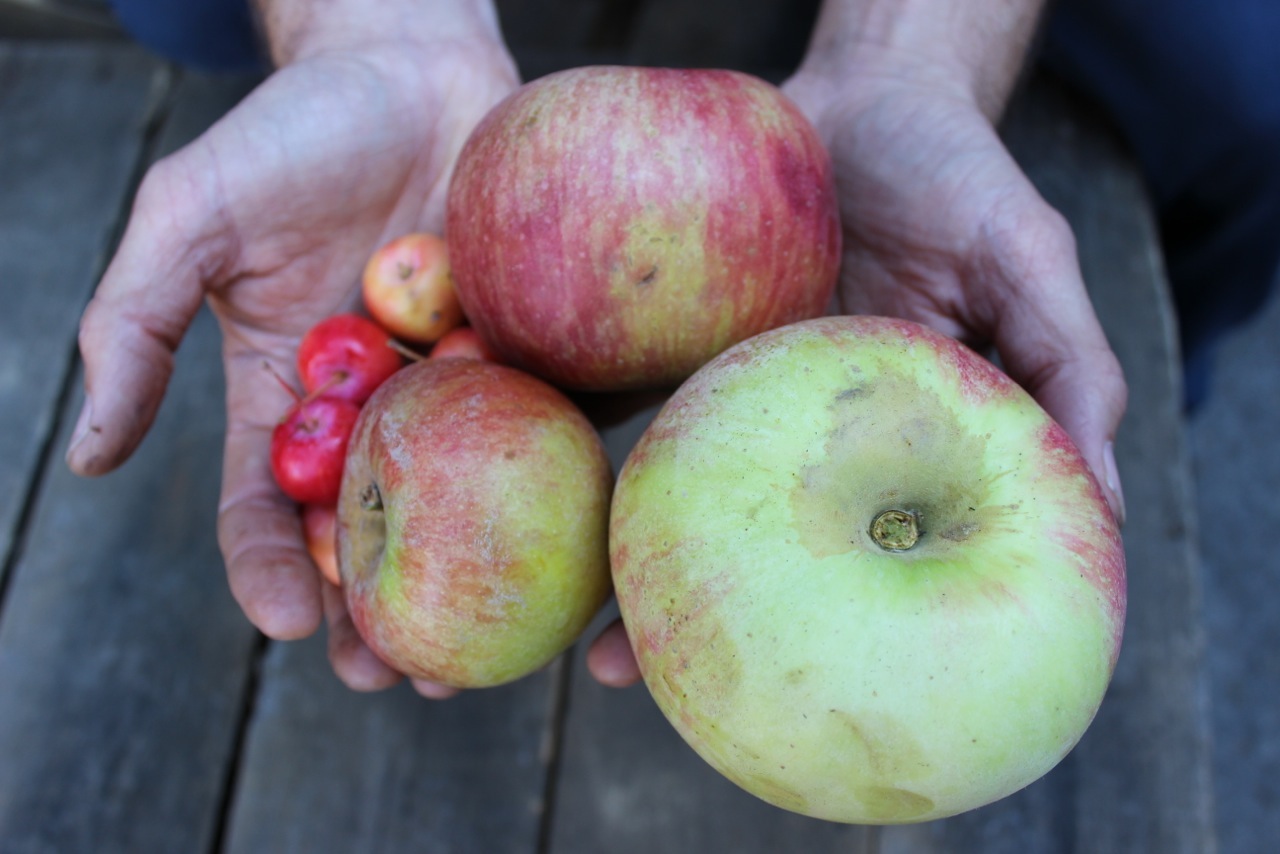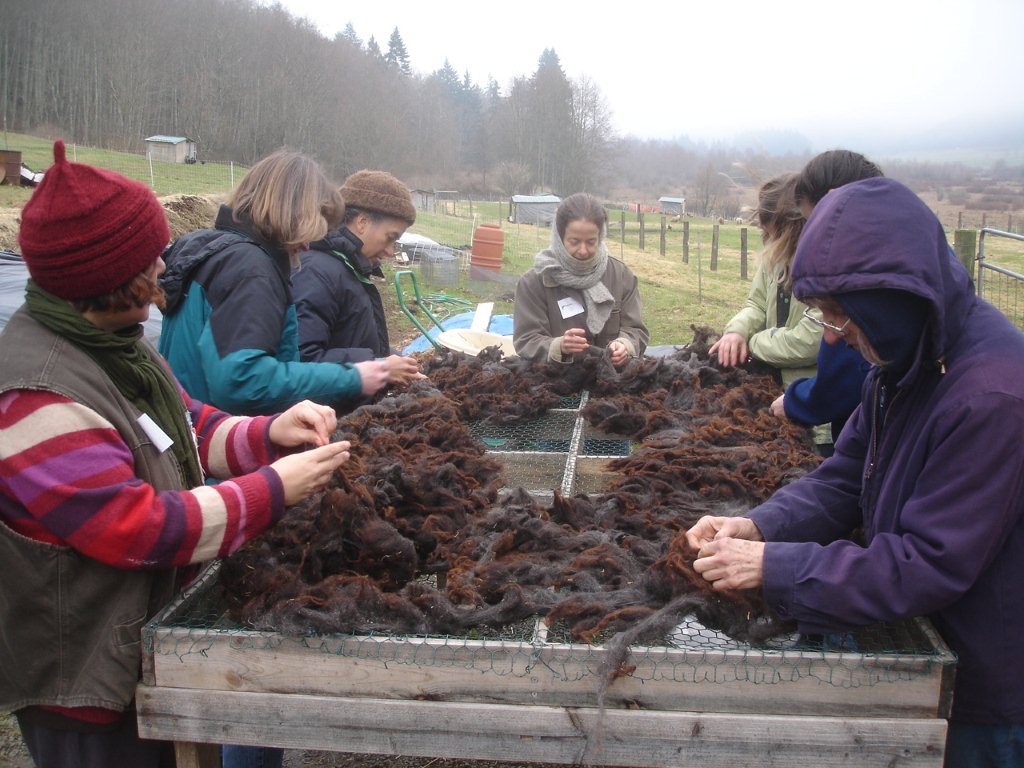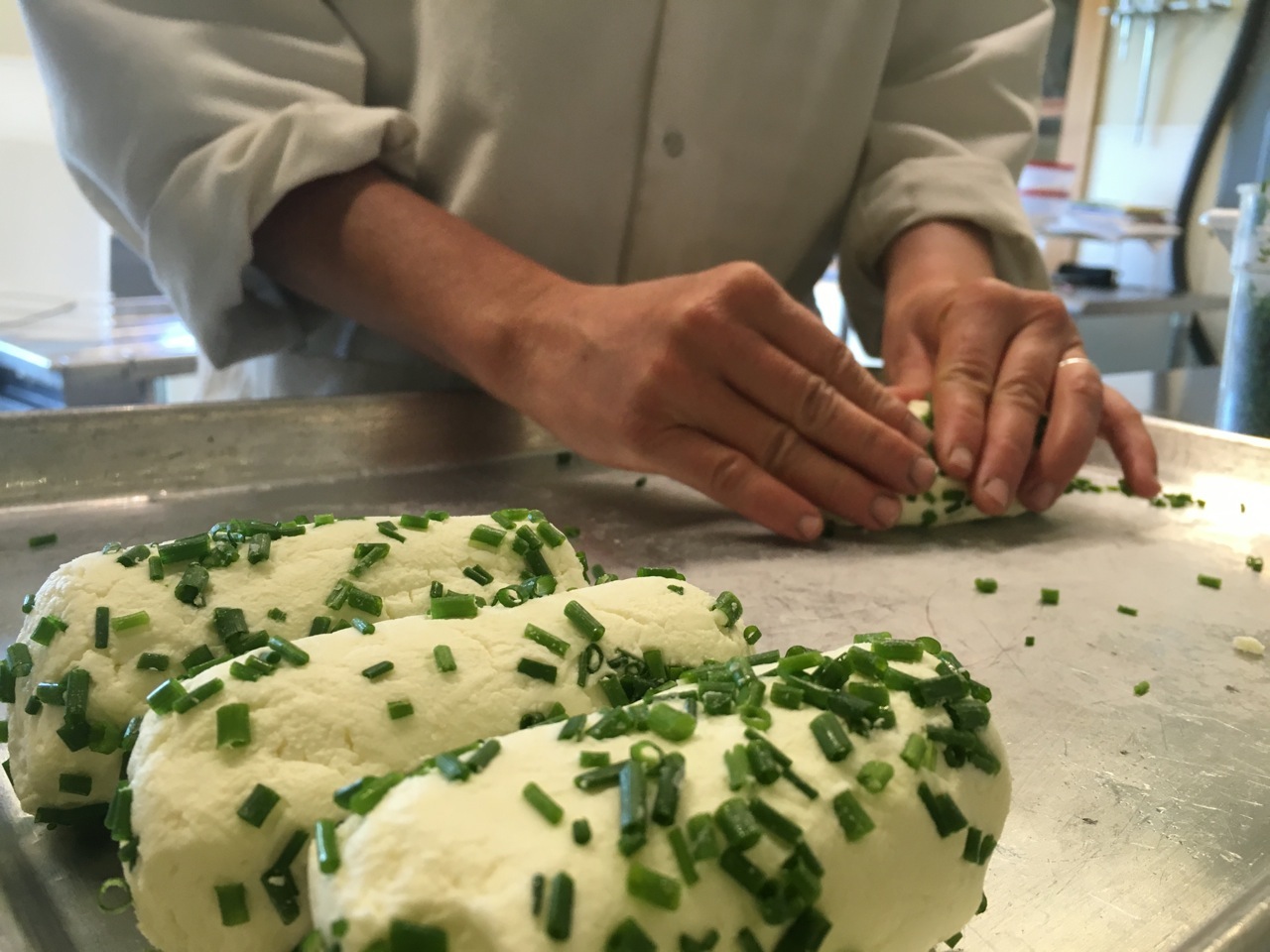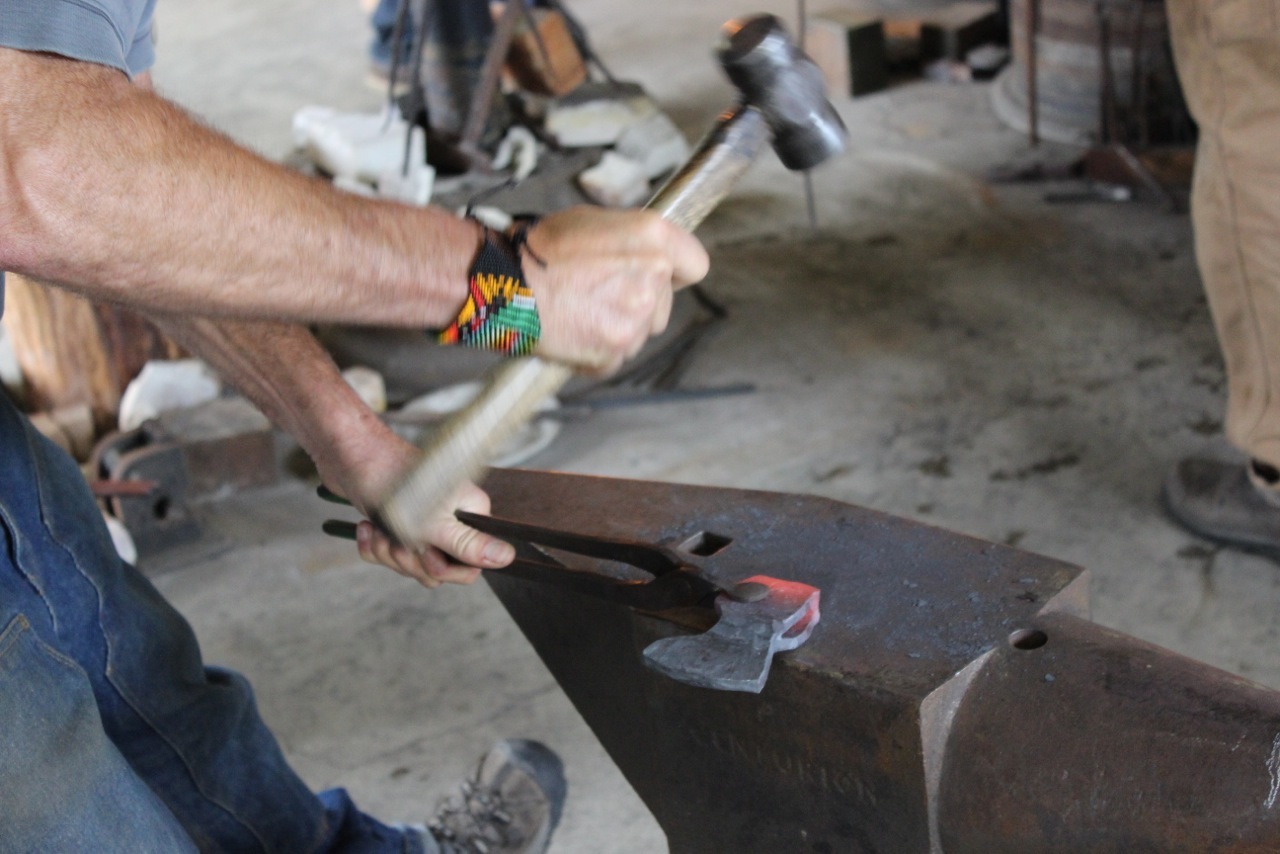 Here's a sampling of classes we have Offered in the past:
Introduction to Blacksmithing: Hooks and Candlesticks Hang your coat and light up your life! This class covers basic tool making and blacksmithing techniques. With this foundation students will create personalized hooks and candle sticks. Safety and respect for materials and the forge environment will be emphasized.
Farmstead Cheese Making Class Explore and learn about Farmstead Cheese Making. Participants will work in the entire process from milk to cheese. Basics in dairy animal management, hand milking and fresh cheese making techniques will be taught in a hands-on manner. All students will leave with their own home made cheese.
Natural Earthen Plasters Learn the satisfy craft of finishing walls with local glacially deposited subsoils. This class will provide an overview of materials, adding pigments and binders, technique and process. The experiential component of mixing and applying plasters will "cement" understanding.
The Art of Nature Journaling Join talented artist Hannah Viano for a memorable journey into the elegant art of creating sketches in nature. The workshop will start with a historical overview of naturalist and nature artists, with examples of different ways they gathered inspiration and depicted their environment. Then participants will use these techniques to become enveloped by the natural world. Both days will balance between journaling theory and techniques and practicing what is learned using nearby forests and beaches as the classroom. This class will inspire nature lovers, birders, poets, artists, etc. to cross pollinate their own interests and deepen their connection with the environment.
Introduction to Home Hard Cider Making This workshop provides a history and overview of hard cider styles and production, and instruction in basic principles of apple selection, pressing, fermentation, aging and bottling. Aside from getting a "behind the scenes" glimpse into Finnriver Farm's cider making facility, students will press apples and take home a 1 gallon jug of fermenting hard cider at the end of the day. Students are welcome to bring their own apples (15 pounds minimum) or purchase from Finnriver.
Jewelry in the Wild Want to wear your love of nature on your sleeve? Or your lapel? Or dangling from your ears? Learn to combine natural materials and classic techniques to create jewelry that's anything but tame! We'll turn the great outdoors into both our supply store and our studio, first gathering a bounty of found materials, then forming them into jewelry using minimal, portable, and non-powered tools. Techniques will include sawing, filing, drilling, texturing, polishing, fusing, stringing, knotting, and making and attaching secure, elegant clasps. Take home several pieces of unique wearable art, as well as a solid understanding of the tools and techniques that can transform any desk, counter, or picnic table into a productive jewelry studio. Prior jewelry experience helpful but not necessary.
Small Farm and Backyard Composting This class will quickly cover the basics of composting and move into innovative design, types of composting, equipment for small farms, health concerns, feedstock materials and uses.
Plant Medicine Intensive Dive deep into the study of medicinal plants and become confident with the knowledge to properly ID and sustainably harvest. The beautiful and biologically diverse landscapes of the eastern Olympic Peninsula provide abundant opportunities for students to utilize plants for medicine, skin health, food and craft. During each plant walk students will: learn proper plant selection and advanced ethnobotany, harvest edible/medicinal plants,and experience a sense of self-reliance through plant medicine. After each field trip students will be focusing on making plant medicines to create personal herbal apothecary. Participants will bring home several herbal remedies (tinctures, salves, etc.), in-depth handouts and herbal resources.
Leather Backpacks Learn the elegant art of working with leather. Students will create their own custom backpacks. Course includes design elements, use of awls and punches, sewing and weather "proofing" your bag. The completed product is incredibly durable and attractive.
Fundamentals of Hunting Pushing the limits of our senses, deciphering subtle bird language, learning the minute tracks and signs of animals, moving with the wind direction, becoming invisible, and intimately knowing the animals...many wilderness skills reach their pinnacle while foraging for wild food. Designed for the beginning/intermediate hunter and anyone interested in the "old way hunting" (before gunpowder). Topics include: target instinctive archery, primitive traps, wildlife tracking, stalking, sustainable harvest principles, camouflage, wild plant foraging, and tree stands.
Sausage Making It's never too early to prepare for summer barbeques! This class will introduce participants to the satisfying art of making fresh sausage. Topics of casings, grinding, spices and cooking will be addressed in this hands-on class. Each participant will leave with 5lbs of sausage and, more importantly, the ability to make more on their own!
Eating at the Fire: Forging a Cook Set Get ready for cooking outside on your own hand-made cooking set. Students will create a cooking barbeque, eating fork, a roasting fork, a spoon, skewers, and nails. This class starts with a talk on forging and a little bit of history and stock selection and basic forging techniques. At the forge students will make implements that have been around since people began working with fire and metal. At the end you will come away with at least four eating utensils.
Rush Basketry Hats Join Heidi Bohan, author of People of Cascadia, to learn traditional techniques combining Pacific Northwest and Celtic rush basketry styles to create an excellent hat for providing shade and protection from the sun and rain. These are made from readily available materials of cattail and rush, are super lightweight and comfortable for men and women. Each hat is custom designed for each person's individual taste and skill set.
Fur Pelt Tanning Class This class will focus on traditional and timeless tanning methods to turn collected animal pelts into beautiful fur-on leather. Using pelts gathered roadside by the instructor in Wisconsin, students will use scrapers and pumice stone to remove membrane and then use traditional methods to soften and preserve the hide. Road killed animals provide an ethical approach to fur clothing and accessories.
Fruit Tree Grafting and Woody Perennial Propagation Learning simple grafting techniques is a must for any home gardener or small farm owner. Grafting allows the home orchardist to inexpensively select rootstock and varieties of fruit trees that are best adapted to their local soil and climatic conditions. In this one day class, students will be introduced to woody plant propagation, grafting theory and several grafting techniques, and will graft 5 fruit trees to bring home.
Broom Making Workshop This almost-extinct art is one of the pinnacles of CedarRoot offerings. A skill that is: largely taken for granted (even though everyone has one), endangered, and is in the hands of a very industrialized process. In this two day class, participants will make several elegant brooms (including small hand brooms for the fireplace or shop, large hand brooms & dish scrubers). The process will entrance you and the end product will create prideful cleaning.
Herbal Remedies for the Cold and Flu Season Prevent and treat colds, flu and respiratory infections with time honored remedies and herbs. You will learn about the immune system, how to strengthen it and how to incorporate local herbs into your home apothecary to keep you and your family healthy throughout the winter season. At the end of the day, you will bring home 3 of your own handmade remedies: an Elderberry Elixir, a Fire Cider, and a Chest Rub.
Willow Harvest Baskets Experience the ancient technique of turning flexible willow shoots into a functioning work of art as you make your own harvest basket. Aside from making a basket, students will learn harvest techniques, how to create a personal willow "garden," and curing techniques.
Introduction to Blacksmithing and Knife Making Workshop A two-day workshop producing a personal knife. The workshop emphasizes tool making techniques as well as basic blacksmithing. Using recycled car springs, a blade will be forged to the student's suitability for shape, then heat treated and tempered. A handle will be made from wood/bone and fitted to the blade, followed by instruction in sharpening and care. Safety and respect for materials and the forge environment will be emphasized.
Axe Forging Workshop Come explore the ancient craft of the hand forged axe. In this workshop we will explore a number of techniques including; axe design, basic metallurgy and steel selection, tooling, forging and working with a striker, heat treating, and making a handle. We will combine these skills to produce a small backcountry, or wilderness axe which you can take on your next outdoor venture. Come prepared to work hard and have a great time! Cotton clothing is a must, and leather shoes are recommended. Ear and eye protection are required. Basic blacksmithing knowledge is helpful but not necessary.
Book Binding and Journal Making Students will learn the historically significant art of bookbinding while making an elegant hardcover useful for personal journal, family recipes, etc. This class is perfect for those interested in adding personality to useful books/journals that are used regularly. Participants will learn all stages of making books: including gluing, stitching, covers and paper selection.
Introduction to Blacksmithing A one-day workshop featuring an introduction to basic techniques. Students will finish an all-metal ice pick and make a working set of tongs. Basic techniques include heating, hammering correctly, pointing, upsetting and drawing out steel, measuring, punching, twisting, and basic finishing techniques. Mild steel (iron) will be heated to 2000 degrees + in a propane forge and shaped with hammer and tongs on an anvil. Safety, respect for the materials, and basic metallurgy.
Fundamentals of Wood Splitting Providing heat for your home using sustainable local resources is very rewarding. Learn proper maul use, and the finer points of splitting and stacking wood. This course is designed to help beginners get into the swing of splitting wood. Workshop includes splitting techniques, grain selection, and using a maul, splitting wedge, axe and hatchet.
Plant Fibers and Rope Making We may take for granted how often we use rope, string, and thread but the ability to gather these elements from the wild is a very versatile skill. Autumn is the best time to gather useful fiber plant material. This class will work with stinging nettles, cattails, yucca and cedar roots! Participants will bring home a small spool of rope useful for many home made projects.
Herbal First Aid Kits Create an herbal first aid kit from wild and cultivated medicinal plants. You will learn how to identify, harvest and process medicinal plants from local forests, meadows and sea. Learn how to make natural medicines for burns, bug bites, cuts and scrapes, muscle aches, colds, parasites and more. You will gain the knowledge and confidence of being able to help yourself and others in times of need. Each participant will have a strong start on their first aid kit by receiving their own liniment/salve, tincture and all natural first aid spray.
Bow Making and Archery The art of building and shooting longbows have been practiced worldwide for thousands of years. Bows have been used for survival, sport, and meditation (Zen Archery). This class is a continuation of these ancient practices. During this class you will learn the skills to build a longbow: including how to choose wood, tools needed and proper use, how to make strings and weatherproofing and finishing your bow. On the second day, your bow will be ready to shoot and we will spend the afternoon learning 'instinctive' shooting techniques.
Solar Hot Water Solar hot water is one of the most cost effective techniques for putting the sun's energy to work while minimizing your monthly electricity bill. This workshop is perfect for those interested in creating their own system or who simply want an introduction to heating water with the sun. Topics include equipment, freeze protection, circulation pumps, passive designs, tips and tricks for installation, pros and cons of different systems and creating solar hot tubs. This class will visit two different systems and cover the necessary elements of several others.
Leather Craft Instructor Peter Yencken offers a variety of leather projects: a custom bag tailored to individual needs (purse, wallet, journal, bag, quiver, etc.), backpacks, and even simple shoes. Course includes design elements, use of awls and punches, sewing and weather "proofing" your project. The completed products are incredibly durable and attractive.
Advanced Blacksmithing Techniques: Fireplace Tools Get ready for next winter's fires. This two-day workshop will cover advanced bending, leaf making and mortising techniques. Students will spend time perfecting these skills while making an artistically beautiful and highly functional fireplace tool set and stand. Previous blacksmithing experience is required.
Traditional Buckskin Making Learn the ancient art of turning animal skins into velvety buckskin. We will be using discarded deer hides, from this past hunting season, and turning them into buckskin using brain tanning techniques that were discovered thousands of years ago. Tanning a hide creates an incredibly soft, breathable fabric that can be used for clothing, beadwork, bags, pouches, etc. In 3 days you will go through the process of soaking and scraping the hides, apply the tanning mixture, softening the leather and finally smoking the hides for weather resiliency.
Rawhide Craft One of the many gifts of animal skin, rawhide is a beautiful and functional craft. Its stiff form provides structure to containers of all kinds - boxes, arrow quivers, food storage, and more - while its lightweight and durability make it ideal to use for traveling and camping. In this class participants can choose to make a quiver, a rawhide box, or "basket". We will also talk about the process of making rawhide and design considerations for further projects.
Felted Goodies: The Art of Felting Our felting methods are as simple as they get: soap, water and lots of gentle rubbing. You will watch raw tufts of wool transform into a workable material under the guidance of your own hands. In this class participants can choose to make a pair of mittens, shoes, a quiver for arrows, a hat, the sky's the limit!
Introduction to Permaculture Permaculture is the conscious design and maintenance of agriculturally productive systems which have the diversity, stability and resilience of natural ecosystems. Students will learn permaculture design, theory and practice, forest gardening, perennial food systems, plant propagation, efficient water and energy systems, fertility management, beneficial plants/healthy soils, and ecological systems as a model for human communities.
Cob Building Fundamentals Clay-rich earth has been used for centuries as a building material. It is abundant, inexpensive, and easy to work with. I t does not rot, insects don't like it very much, and thick clay walls add a lot of thermal mass to house, keeping it cool in the summer and more consistently warm in the winter. In addition, building with earth means we can create housing without the use of toxic chemicals or exploiting limited natural resources.
Homestead Welding The small-scale farm or homestead is incomplete without basic welding. Because the cost of small welding units has decreased dramatically over the past decade, few repairs will readily pay for a new welding unit. This class will be filled with common problems and procedures to fix them, safety with grinding and welding operations, buying equipment etc. Hands on activities include: gas bottles and torch cutting, grinding and cutting steel with an angle grinder, arc welding steel with different rods and Mig welding steel. There will be time to work on some basic repairs (i.e. broken gates, stressed farming implements, etc.)
Bird Voices: The Eyes of the Forest Humans, or other predators, make ripples of disturbance when they move through an ecosystem. The birds broadcast this information in a decipherable language. Join instructor Scott Brinton in listening and learning from the birds to discover where the owl is roosting, if the hawks are hunting, or where the coyote is resting. Participants will leave with tools and tricks for expanding the awareness of their surroundings. This class will fascinate both beginner and "seasoned" naturalists.
Scythe Workshop Is your weed-trimmer continually broken? Do you lament the bone jarring, noise making days of summer? When done properly, scythes can work as efficiently as a weed wacker (read a great article about scythes here). Participants will experience a variety of blades and snathes, sharpening, mowing techniques and choosing the right scythe for you application. The class culminates by mowing a swath of grass and allows participants to become proficient. Scythes must be sized to the operator of this tool. The second part of this class includes making a handle (snathe) for a personal scythe outfit.
Earthen Ovens Learn how to make your own oven from locally available clay, straw and sand. Constructed for centuries using locally abundant sub soils, earthen ovens are a main attraction of any backyard (and you can't beat the pizza and chicken!) Topics include: locating suitable building soils, shaping efficient ovens, principles of thermal mass, weather protection, finish plasters and cooking basics.
Spring Tonics and Northwest Wild Medicines This class begins with a walk through the meadows, forests and beach learning about the edible, medicinal and utilitarian uses of plants that grow wild in our bioregion. Participants will learn how to safely identify and ethically harvest wild plants and about their ethnobotanical uses; from food to basketry. The class culminates inside learning different medicine making techniques with some of the plants harvested. Students will bring home a tincture and salve and the knowledge to create more.
Capturing the Essence of Nature Join Stephen Cunliffe, winner of a major Cannon Photography award, for a day of nature photography. "Man has been depicting scenes from nature for thousands of years. Technology has changed, from scratches on rock to digital photography, although the objective remains the same: to capture the essence of a natural scene," says Cunliffe. The morning session will be indoors, where participants will tackle some of the photographic essentials. Students will start with seeing, composing and creating in the mind's eye, then move into the specific techniques used in photography to capture our vision. Participants will also be invited to bring some of their own images for discussion. The afternoon will be spent outside applying these techniques.
Rotational Grazing: for small properties Imagine creating topsoil, increasing plant diversity, building nutrient levels and suppressing fire danger while bolstering animal health and productivity. Come spend the morning learning the tips and tricks of sustainably managing livestock on small acreage. Class will cover theory, fencing types, energizers, "mob" grazing, stocking rates, pasture renovation, soil sampling, compaction,seasonal variations, confinement areas, and observation/ documentation techniques.
Basics of Backyard Seed Saving Two generations ago gardeners saved and swapped all of their own seed. Turns out, crops do better when they evolve to your backyard through saving your own seed. In this class, participants will learn the crops that are easy to save from, fundamentals of breeding and selection, isolation for trickier seeds, simple genetics, cleaning and storage techniques, and planning your garden for seed saving. In the fall students will winnow, clean, sort and package their own seed!
Fruit Tree Grafting and Woody Perennial Propagation Learning simple grafting techniques is a must for any home gardener or small farm owner. Grafting allows the home orchardist to inexpensively select rootstock and varieties of fruit trees that are best adapted to their local soil and climatic conditions. In this one day class, students will be introduced to woody plant propagation, grafting theory and several grafting techniques, and become proficient enough to graft 5 fruit trees to bring home.
Atlatl Making Atlatls or "throwdarts" were the precursors to bows and arrows. Extremely fun to shoot, they were used extensively across all of North America to hunt everything from woolly mammoths to rabbits. This class will cover making Atlatls and throw darts, choosing and harvesting wood, cutting and mounting feathers, and shooting your finished product. A friendly contest will end the day and winner will take home a handcrafted wooden bowl made by the instructor!
Herbs for Coughs, Colds and Flu In this hands-on class you will learn how to treat and prevent some common respiratory viruses, coughs and flu with locally grown and common kitchen herbs. Participants will learn medicinal properties and how to use 10 of the most effective herbs. The class will makes and takes home 3 different herbal remedies to keep you and your family healthy throughout the winter season. Class location cozy home to taste, experience and learn about these time honored herbal remedies.
Fire Making Class Become a self-sufficient camper and impress your friends by learning the elegant craft of creating fire through friction. This class will cover the basics of bow drill, handrill and flint and steel. The day will be spent working on techniques and creating personal fire kits. All students will leave with a highly functioning fire kit.
Tallow Lotion Learn the dignified craft of creating homemade lotion from the rendered fat of cow, sheep, or buffalo. In appreciation of our local resources, this class utilizes this beautiful golden oil to create a delicious and deeply nourishing food for your skin! Everyone will take home a pint's worth of tallow lotion for home use.
Soap Making Learn how to make your own gentle cleansing soap from raw ingredients. This class will cover all of the basics of soap making in a hands-on format. Each student will make their own soap to bring home and, more importantly, the knowledge to successfully make all of their own soap in the future.
Everything Sourdough Explore the ancient art of fire baked bread. Participants will learn the process of growing yeast starters and make several types of bread that we will enjoy fresh out of the oven together. Students will bring home a working sourdough culture that can be used for to make hundreds of loaves at home.
Fermenting the Harvest Have an abundance of vegetables from the garden? Learn how to store and preserve food through the winter ahead without canning or freezing. In this class students will learn traditional long term storage techniques of vegetables (potatoes, winter squash, root vegetables, garlic, etc.) and the art of fermenting foods into sauerkraut and kimchi. All students will receive a 2 gallon crock with a personally made batch of sauerkraut or kimchi to take home.
Wildlife Tracking Tracking opens up a unique lens through which to view the world. Who made that track? How fast was this it going? How does it fit into the larger ecological puzzle? Which way was it looking? What emotional state was it in? Drop in and learn the answers to these and many other mysteries of tracking with talented naturalist and community members. Together we will uncover stories written upon the sand and assist each other into greater knowledge of animal behavior.
Willow Harvest Baskets Practice the ancient technique of turning flexible willow shoots into a functioning work of art. Aside from making a basket, this one day workshop teaches harvest techniques, creating a personal willow "garden," curing, and preparation.
Rigid Heddle Loom Weaving Weaving has been used since agrarian societies first formed as a way to create fabric and cords for a wide variety of uses. The rigid heddle loom is a simple loom that creates plain weave fabrics. Quick to set-up and easy to learn, we can warp, weave, and finish a project in one day! We will make a cowl (neck warmer) in this one day course.
Farm to Yarn Are you a knitter who wants to understand the origin of your yarn? Perhaps you just love touching anything related to wool, a freshly shorn fleece? Or maybe you would enjoy a fall day spent on the farm. Participants will learn: How to choose a high quality hand spinner's fleece, how to prepare a fleece for hand spinning, and how to spin wool on a spinning wheel (bring your own wheel or use one at the farm).
Wood Stove Food Dehydrator It is possible to preserve food with the heat from your wood stove. Fall is when many of us are lighting our wood stoves; this class helps us dry food for the winter with the same heat that warms our house. This class teaches the basic woodworking (knees and joinery) to construct screen shelves that can be mounted near your wood stove. The instructor will present options for mounting screens and guide you in designing a custom rack for your home.
Intermediate Blacksmithing Class: Build Your Own Forge Participants of this class will create a highly functioning propane forge. Intermediate Students will each make their own forge to bring home. These forges can be used to create a plethora of home projects like knives, hinges, hangers and brackets. Students must have taken a basic blacksmithing to participate.
Introduction to Home Food Preservation There are many reasons for preserving food: economics, abundant gardens, expression of creativity, gifts and self sufficiency among them. Learn the techniques to safely preserve your harvest including: water bath canning, pressure canning, freezing, drying, cold storage and fermenting. Participants will receive resources for tools, recipes, equipment and books and the skills to preserve independently.
Living Roofs Imagine, purifying rainwater, creating habitat and blending into your surroundings. In this workshop you will learn the basics of creating three simple, inexpensive, and lightweight living roofs. This class has a healthy balance of theory and hands-on assembling of a living roof structure using hand tools.
Root Cellar Design With the abundance of summer, we start looking at the ancient dilemma of storing our food through the winter. This class will tour a highly functional root cellar and focus on general design considerations. Topics will include: ventilation, thermal mass, insulation, storage requirements of different fruits and vegetables and shelving. "In the field" storage techniques and alternative surplus storage techniques will be explored
Pole Timber Framing Intensive Learn the basics of structural joinery and round pole construction in this six day, hands-on, intensive course. Topics will include use and care of hand tools, design considerations, interface between round poles and sawn lumber, and appropriate use of fasteners. The course will focus around the construction of a 10 x 12 foot "clubhouse," beginning in the shop where we will prepare the joinery and ending with the assembly of the structure on site in the heart of Port Townsend. This structure will provide the first in a series of natural building courses offered in conjunction with Rainshadow Natural Builders Guild.
Edible Landscape Design This workshop covers the basic tenants of Agroecology and Permaculture. Participants will tour a highly functioning edible landscape, and then create drawings and designs for their own property. Topics will include: species selection, mimicry of natural ecosystems, microclimates, plant guilds, pest control, irrigation, year round harvest, propagation techniques, weed suppression, plant succession and much more.
Arrow Making Explore and connect to your ancient roots in this one day workshop learning to craft the primitive wooden arrow with shafts constructed from locally harvested shoots, natural fibers & wild turkey feathers. Many types of arrows will be discussed - each tailored to specific situations or purpose. Stone points will be provided which you will learn to haft with homemade pitch glue - useful skills which also comprise the basics for making many other stone age hafted tools and weapons. Take home at least one fully completed, ready-to-shoot primitive hunting arrow and the knowledge needed to make more!
Tool Sharpening Tools need to be honed to work well. This class will give you the confidence to sharpen many useful tools found around a homestead from kitchen knives to crosscut saws. After learning techniques and equipment needed for a variety of tools, participants will receive a chance to sharpen some of their implements brought from home.
Masonry Stove Learn the elegant design of eastern European high thermal mass stoves. These fuel efficient stoves are designed to radiate heat back into a living space for a long time and can also be used to cook. This hands-on workshop will cover concept, design variations, material use, and utilization. Participants will leave this workshop with the fundamentals needed to recreate their own masonry stove for home or shop
Backstrap Weaving Cords are a textile staple that are used in both work and home life. The backstrap loom is a versatile, yet simple, weaving tool. Our project will be a strap we can use in our loom itself (we work with a simple substitute in out first loom). From there you can made cords for belts, shoelaces, halters, bag handles -- any use you can imagine. Backstrap looms can also be used to make cloth, and still are in many parts of the world, including Central and South America, Africa, and many parts of Asia. Participants will be weaving with cotton, and all materials and loom parts will be supplied.